Generally, the most beautiful as well as sleek nails are a perfect finishing touch for the well dresses look of a woman. More frequently, some kind of nails can support to achieve this. But, the nature does not always cooperate, when the women try to grow and manicure their own nails, so it is better to know the different types of nails that you might obtain at the nail parlor or salon. Whether you prefer to shape your nails yourself at home or simply treat yourself to a manicure at the salon that works great for you, there are some kinds of nail shapes that you can opt for such as: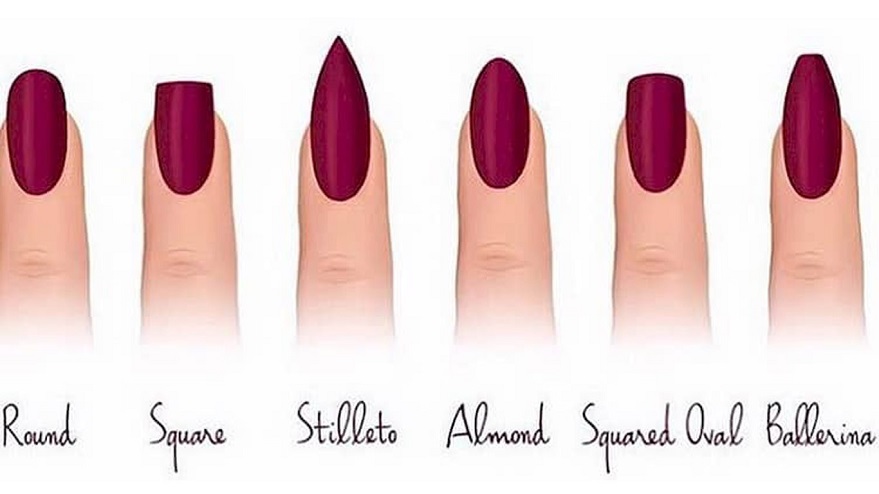 If you have either short or long fingers, but your nail beds are long and narrow, you can simply go with almond nail shape that perfectly suits you.
If you have shorter hands or fingers with stubby and wide nail beds, this oval shape will make a glow of length. It is also a good shape for longer fingers, which have short, stubby or wide nail beds.
If you have long hands and longer fingers with narrow nail beds, the square shape is a best option for you that can style with bold nail polish colors.
The coffin nail shape is best suitable, if you match square or Squoval shapes with long and narrow nail beds.
If your nail beds are long and wide, this Squoval nail shapes will appear fantastic on long or short fingers.
If you have enough time and money for improving the appearance of your nail, you can go with this nail shape.
Natural nail shape makes your finger nails beautiful
The polished nails and healthy cuticles are not only the things to make your finger nails more beautiful and also need to keep your nails trimmed as well as shaped properly, which greatly supports to make a glamorous appearance to your hands. Naturally, every hand is unique, but there are a few common sizes and natural nails shape to the hands available, which could support you to decide how you must shape your nails. The way your cuticle is also shaped well that would also help you.
Various types of nail shapes and styles
If you ever though on a perfect shape of your nails and look for the most suitable nail types for you, here is a useful guide to discover the different nail shapes as well as styles that will work best for you. Let's take a close look at these following types of nail shapes available to you:
Mountain or stiletto peak
Almond nails
Square nails
Rounded nails
Oval nails
Squarely rounded nails
Overall, the nail shaping also creates the appearance of beautiful and natural finger nails. All need more maintenance to keep them appear fresh as well as natural more time. The presence of vast selection of colors and designs in nails make them fun as well as fashionable too.